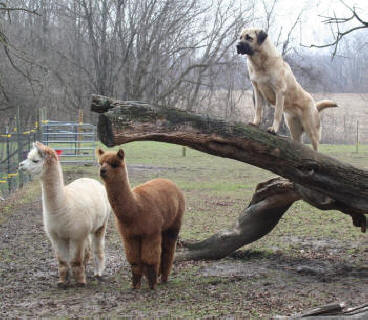 Dancer is always alert and on guard.

LARGE, GENTLE TEMPERAMENT AND SOUND STRUCTURE WORKING DOGS.

We are proud that TAMOORA bred ANATOLIANS
are successfully working as Livestock Guardian Dogs
on the farms listed below:

Rainbow Run Alpacas, NC
Tanglewood Alpacas, OH
Against the Wind Farm, FL (Boer Goats)
Sugarloaf Alpacas, ME
Kaleidoscope Alpacas, OH
Cottonwood Creek Farm, WA
Suri Haven Alpacas, OR
Paradise Palm Alpacas, FL
Mythic Alpacas, VA
Andean Vista Ranch, Alpacas, IL
The Alpaca Group NW, WA
Land of Legends Alpacas, BC
Whitley Hollow Alpaca Farm, NC
Chutney Falls Alpacas, BC
Diastole Alpacas, VA
Black Wolf Ranch, MT
Our Field of Dreams Alpaca Ranch, OK
Back to Basic Alpacas, Canada
Castle Rock Llamas and Alpacas, WY
Black Woods Farm, ME (Alpaca)
Tanglewood Suri Alpacas, CA
Take Me Home Alpacas, VA
Brush Creek Alpacas, GA
Whimsical Acres, NY
Hoosier Heartland Alpacas, IN
Ambassador Anatolians, OH
Hollow Wood Farm Alpaca, WA
Lost Armadillo Ranch, CA - Goats
Camp Camelid, FL
Alpacas in the Glen, WA State
(link coming soon)
Spendthrift Thoroughbred Farms, KY
(Wayne Hughes)
Trigger Happy Mini's, LA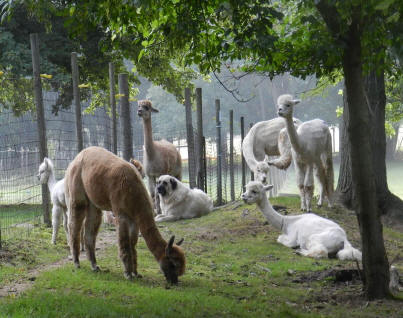 Dancer with her girls in the early misty morning....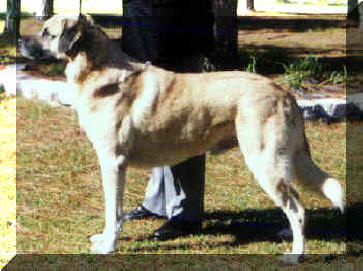 AKC, ASDCA, UAG, UKC, CKC, FIC, IABCA Nat'l.,Inter'l, Honor
Ch. Alaturka's Kafadar, CGC
(foundation sire) was consistently the No. 1, 2 or 3
AKC Ranking Anatolian Shepherd Dog for the years 1999, 2000 and 2001! MULTIPLE-AKC WORKING GROUP PLACEMENTS -
AWARD OF MERIT- National Specialty and
WINNER OF STUD DOG CLASS,
"Eukanuba Classic"
1st Anatolian to go Best of Breed at the Eukanuba Classic for 2001!!

SIRE OF: 19 AKC CHAMPIONS, (from 6 litters),
AKC MAJOR POINTED pups upcoming -No. 2 Ranking AKC Anatolian (as of December 2003-Working Group) and No. 1 ASD for 2003 (UKC) offspring took a UKC Best In Show!! Kafadar is ALSO the sire of the No. 1 AKC Anatolian Shepherd Dog (breed points)
as of April 2006-Ch. Tamoora's AMIR


SIRE OF DISTINCTION and SIRE OF MERIT AWARDS
Kafadar is NOT AVAILABLE for outside stud service. Restricted to my breeding program only!

INTRODUCING For Stud:
To approved bitches only:


IABCA Intl., Natl., AKC BISS GrB CH

Tamoora's Kaplan Gözleri


Finishes #1 Anatolian Shepherd -

AKC Breed Standings - and No. 2 All

Breed ranking as

of December 31, 2017 and
Multiple Working Group Placements - AKC
ASD National Specialty Show (BISS) and ASD Regional Specialty, Breed Winner 2017
OFA-GOOD